The following are just some of the accessories that are available for use with DeFelsko instruments.
Calibration Standards
Ideal for use in the calibration lab. Used to verify the accuracy of a magnetic, eddy current or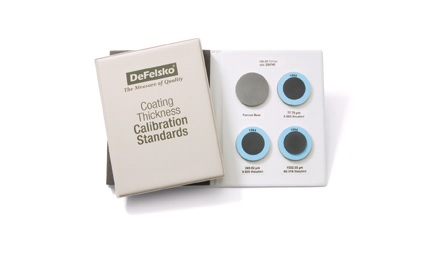 ultrasonic coating thickness gauge over its complete thickness measuring range.
Standards with steel or aluminum substrates consist of four standards mounted in a durable leatherette binder.
Plastic thickness standards consist of four polystyrene standards supplied in a rugged acrylic storage box.
Certified thickness standards are ideal for checking calibration and operation of coating thickness gauges and are an important component in fulfilling both ISO and in-house quality control requirements. All standards are supplied with a certificate of calibration showing traceability to NIST/NPL.
Wireless Printing
No wires, cables or connectors! PosiTector gauges instantly beam invisible infrared light directly to the IR printer. Simply align the infrared ports and select PRINT on the gauge MENU. It's that easy!
Features at a glance:
Wireless, battery-operated
Receives data via an invisible infrared beam
Prints both text and graphics
Very lightweight
One year warranty.
PosiSoft For Windows
PosiSoft® Software for Windows® is an ideal solution for those who wish to download measurements to a PC for printing or archiving.
Simple installation and easy-to-use graphical user interface
Quick and easy transfer of readings from the gauge
Support for Windows 2000 SP3+, XP and Vista
Multi-language support including English, German, Italian, Spanish and French languages
Allows entry of notes and annotations
Allows deletion of individual readings or entire batches
Automatic creation of charts and graphs during download
Readings can be saved in user specified delimited text files for easy import into Access, Excel, Lotus and other software programs.
Testex™ Press-O-Film™ Replica Tape
Optical Grade Replica Tape available
Provides higher quality SDF surface data files than
conventional replica tape
50 pieces (impressions) per roll
For use with RTR-P models
Certificate of Conformity Warrant information (XC Press-O-Film)
Tape Grade
Range
Order Code
Coarse (C)
20 to 64 microns
0.8 to 2.5 mils
R-PRESS
X-Coarse (XC)
40 to 115 microns
1.5 to 4.5 mils
R-PRESSX
Optical Grade
Coarse (C)
20 to 64 microns
0.8 to 2.5 mils
R-PRESSOG
Optical Grade
X-Coarse (XC)
40 to 115 microns
1.5 to 4.5 mils
R-PRESSXOG
Certified PosiTector RTR Shim Set
Order Code: STDCSSRTR
Used to verify the accuracy and operation of PosiTector RTR and other spring micrometer replica tape readers. Ideal for fulfilling both ISO and in-house quality control requirements.
Includes Certificate of Calibration traceable to PTB.
Accuracy: ±1.25 microns
The shims, along with our

calibration procedure

, allow you to verify the height (H, HL) accuracy of PosiTectorRTR instruments in-house
PosiTector RTR Check Shim
Order Code: RTRCHKSHIM04
Used to check PosiTector RTR peak height accuracy (RTR-H and RTR-P). One check shim is included with each probe.
Stated thickness is adjusted for Replica Tape Offset Value.
FREE
FREE USB cable for PosiTector 6000, 200 , DPM and PosiTest Pull-Off Adhesion Tester
FREE technical support (direct from DeFelsko)
FREE upgrades (direct from DeFelsko).
To order any of these products please contact us at [email protected] or call (08) 8267 4744.