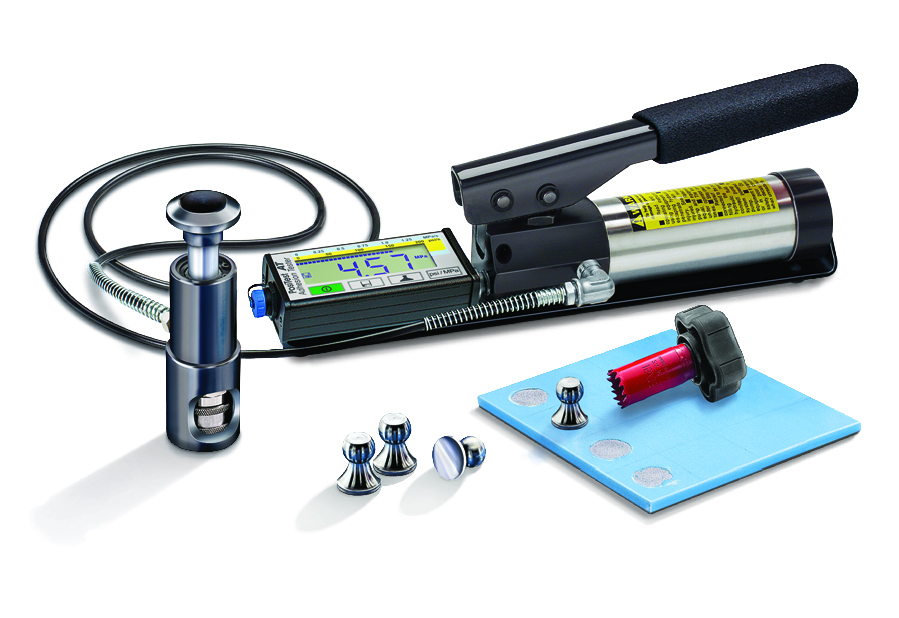 Incospec Global Field Services Coating Inspectors have almost exclusively run DeFelsko Coating Inspection equipment across our Coating Inspection division since 2002. The innovation, accuracy and durability of DeFelsko products provide us with the tools and confidence to deliver reliable results for protective coating projects time after time.
Manufacturer
DeFelsko Corporation
Features & Details
The PosiTest Manual Pull-Off Adhesion Tester (AT-M) measures the force required to pull a specified test diameter of coating away from its substrate using hydraulic pressure. The manual hydraulic pump is designed to apply smooth and continuous pressure with a single stroke,
Simple
Pull Rate Indicator allows operator to easily monitor and adjust the rate of pull in accordance with international test methods
Conversion charts not required – tester automatically calculates pressure based on dolly size
Inexpensive, single-use dollies eliminate cleaning for re-use and can be kept as a permanent record
Each kit comes with everything needed for testing
Durable
Environmentally sealed enclosure – weatherproof, dustproof and shockproof – meets or exceeds IP65
Can be used in any position
Rugged carrying case
Two year warranty

Accurate
Self-aligning aluminium dolly enables accurate measurements on smooth or uneven surfaces
Every PosiTest Adhesion Tester pressure system is calibrated and certified to ± 1% accuracy using NIST traceable load cell
Conforms to national and international standards including ASTM D4541/D7234, ISO 4624/16276-1, AS/NZS 1580.408.5 and others
Versatile
10, 14, 20 or 50 mm dollies maximie capability and measurement resolution across a wide range of bond strengths
Internal Memory stores maximum pull-off pressure, rate of pull, test duration and dolly size
Compatible with PosiSoft Desktop software for viewing, printing and storing measurement data
Download Brochure
PosiTest AT-M
YouTube Videos
Please click here to watch this product video on YouTube.
For more information/enquiries, please call us on 08 8267 4744 or contact us.