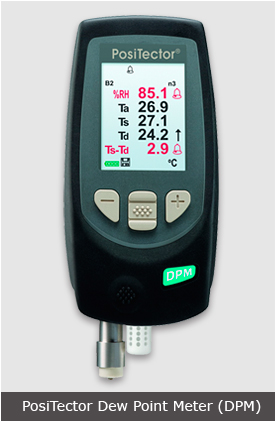 Incospec Global Field Services Coating Inspectors have almost exclusively run DeFelsko Coating Inspection equipment across our Coating Inspection division since 2002. The innovation, accuracy and durability of DeFelsko products provide us with the tools and confidence to deliver reliable results for protective coating projects time after time.
Manufacturer
DeFelsko Corporation

Features & Details
DeFelsko is pleased to announce two new probe options and enhanced Auto Log features for the PostiTector DPM Dew Point Meter.
The Dew Point Meter measures and records climatic conditions including relative humidity, air temperature, surface temperature, dew point temperature and difference between surface and dew point temperatures.
Ideal for surface preparation as required by ISO 8502-4, BS 7079-B4, ASTM D3276, IMO PSPC, SSPC-PA7 and US Navy NSI 009-32.
Simple
Large, easy-to-read, graphics LCD
Enhanced one-handed menu navigation
No need to consult complex tables or use a slide rule calculator
Audio and visual alarm – indicates when climate conditions are unsuitable for painting
All readings are constantly updated and displayed simultaneously
RESET feature instantly restores factory settings
Durable
Rugged, outdoor/indoor instrument
Solvent, acid, oil, water and dust resistant – weatherproof
Shock-absorbing, protective rubber holster with belt clip and wrist strap
Two year warranty on body and probe
Accurate
Fast response precision sensors provide accurate, repeatable readings with high reliability and long term stability
Smart Trend™ Indicators identify rising, falling or stable readings
Certificate of Calibration showing traceability to NIST included
Conforms to national and international standards including ISO and ASTM
Versatile
Internal memory stores datasets with the simple touch of a button
Auto Log Mode automatically records 5 parameters at user selected time intervals. Ideal for
unattended operation.
Field calibratable
Celsius/fahrenheit switchable
Selectable display languages
Hi-contrast backlit display for bright or dark environments
Flip display enables right-side-up viewing
Uses alkaline or rechargeable batteries (built-in charger)
Powerful
Gauge body universally accepts all PosiTector DPM (environmental), 6000 (coating thickness) and SPG (surface profile) probes
Hold function freezes the display allowing measurements to be manually recorded
USB port for fast, simple connection to a PC and to supply continuous power. USB cable included
Software updates via web keep your gauge current
Software solutions for viewing, analysing and reporting data:

PosiSoft USB Drive – stored readings and graphs can be accessed using universal PC/Mac web browsers or file explorers. No software required
PosiSoft Desktop – free desktop software (PC/Mac) for downloading, viewing, printing and storing measurement data
PosiSoft.net – a free web-based application offering secure storage of thickness readings
PosiTector App (Advanced models only) – mobile app connects PosiTector Advanced instruments to your iOS or Android smart device

Every stored measurement is date and time stamped.
4 PositTector DPM Probes
PosiTector DPM – Integral Probe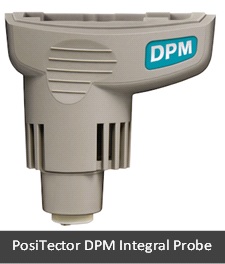 Includes built-in air temperature/humidity sensor and thermocouple surface temperature sensor
PosiTector DPMS – Integral Probe with Cabled Surface Temperature Sensor
Includes built-in air temperature/humidity sensor and K-type connector
Magnetic surface temperature sensor with armored cable and locking device to prevent accidental disconnection from the instrument during unattended operation
Includes magnetic tab to attach the PosiTector body onto steel structures
Easily converts to accept other optional K-type thermocouple sensors including (a) hand-held surface temperature sensor, (b) self-adhering surface temperature sensor and (c) liquid temperature sensor.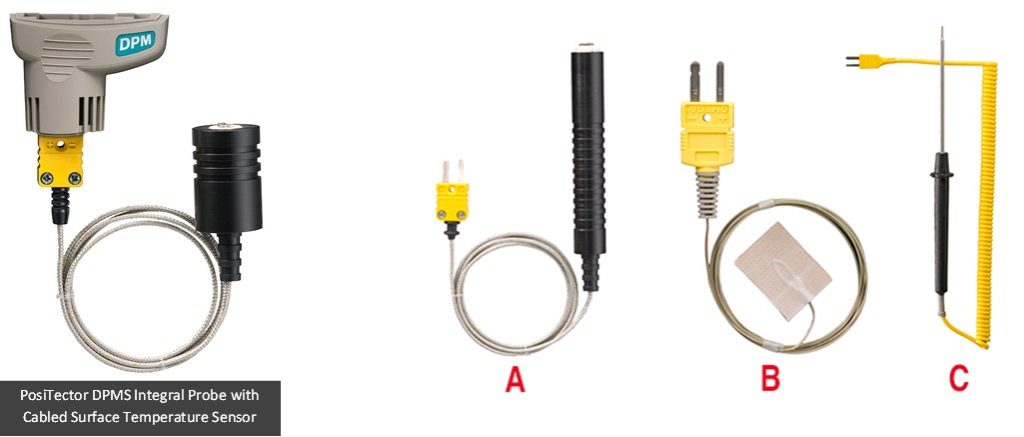 PosiTector DPMA – Integral Probe with Wind Speed Sensor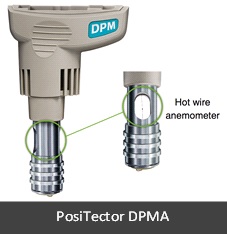 Includes built-in (integral) air temperature, humidity sensor and surface temperature sensor
Also measures air temperature, relative humidity and wind speed while in anemometer mode
Auto-rotating display for inverted use
Choice of wind speed measurement units: m/s, km/h, mph, ft/s, ft/m, knots
Wind speed accuracy: +/-3%
PostiTector DPMD – Cabled Probe with 1/2″ NPT Threads
Includes built-in air temperature and humidity sensor (measures dew point, humidity and air temperature only)
½" NPT threads for insertion into tanks and pipes (max 200 psi/1.3 MPa)
Sintered aluminum housing protects sensors
PosiTector Advanced Gauge Body Features
Download Brochure
PosiTest DPM Brochure
YouTube Video
PosiTector DPM Advanced – Auto Log Demonstration
Please click here to watch this product video on YouTube.
PosiSoft Solutions – View, Analyse, Report and Store Measurement Data
For more information/enquiries, please call us on 08 8267 4744 or contact us.