Incospec Global Field Services Coating Inspectors have almost exclusively run DeFelsko Coating Inspection equipment across our Coating Inspection division since 2002. The innovation, accuracy and durability of DeFelsko products provide us with the tools and confidence to deliver reliable results for protective coating projects time after time.
Manufacturer
DeFelsko Corporation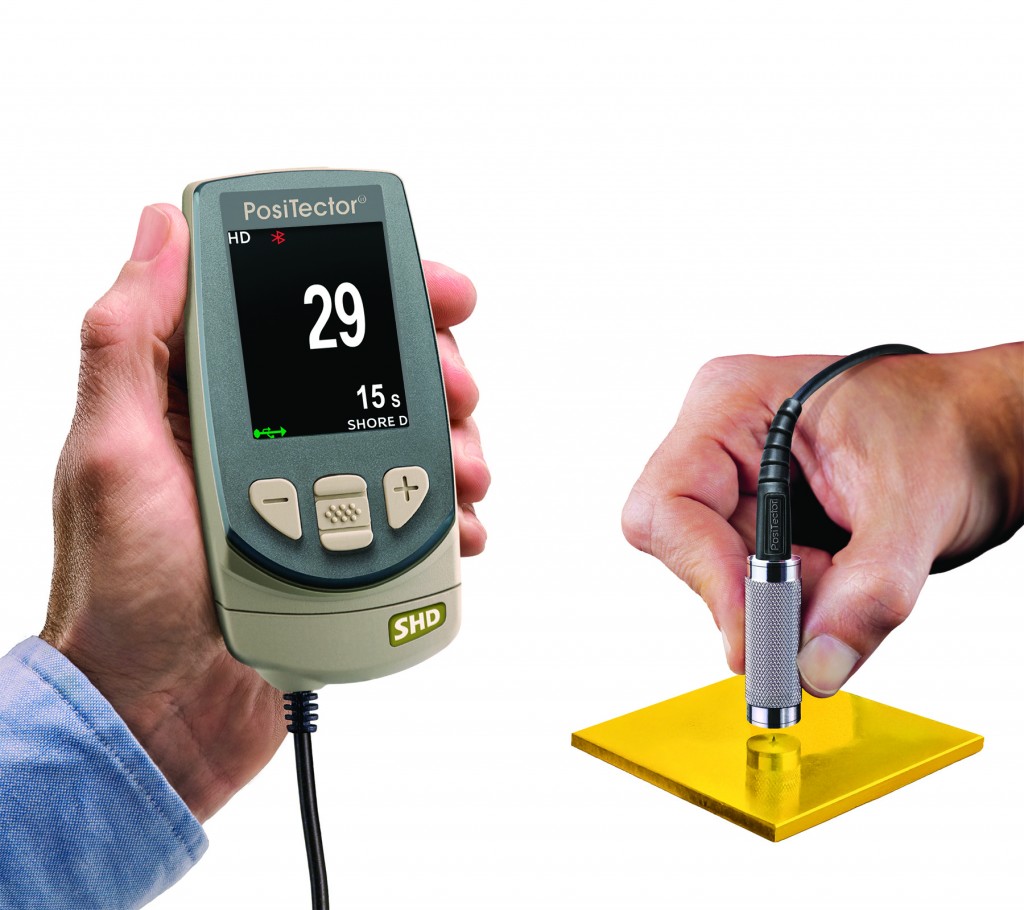 The PosiTector SHD Shore Hardness Durometer measures the indentation hardness of non-metallic materials such as polymers, elastomers and rubber.
It can be used as a handheld instrument or placed in an optional test stand to reduce operator influence.
Two models are available for different hardness ranges: Shore A and Shore D.
Features & Details
User-adjustable measurement time with onscreen countdown 

Internal memory, statistics and USB port

HiLo alarm audibly

and visually alerts when measurements exceed user-specified limits

Includes test block to verify operation

Compatible with PosiSoft suite of solutions, including the updated PosiTector App
The digital PosiTector SHD has many advantages over the analog (dial) type Shore Hardness Durometers:
Memory to save readings for convenient archival or reporting
Test time  can be set which begins counting down on the screen
Auto Sub-Batch feature creates a new sub-batch, conveniently grouping readings after the desired number of measurements is taken (advanced model)
Auto Ignore 20/90  to omit unreliable readings below 10 and above 90
 Simple
Easy-to-read digital display

User-adjustable measurement time with onscreen countdown to conform to national and international standards

Flashing display – ideal for noisy environments

Enhanced one-handed menu navigation

RESET feature instantly restores factory settings
  Durable
Solvent, acid, oil, water and dust resistant – weatherproof

Shock-absorbing, protective rubber holster with belt clip

Hardened steel indentor

Two year warranty on body and probe
 

 Accurate
Certificate of Calibration showing traceability to NIST included (Long Form)

Auto Ignore mode disregards hardness readings below 20 and above 90 per international standards

Hi-RES mode increases displayed resolution to 0.1

Includes test block to verify operation

Conforms to national and international standards including ISO and ASTM
 

 Versatile
PosiTector body accepts all PosiTector SHD, 6000, 200, SPG, RTR, DPM and UTG probes easily converting from a shore hardness durometer to a coating thickness gauge, surface profile gauge, dew point meter or wall thickness gauge.


High contrast, reversible color LCD with backlit display

Selectable display languages

Flip display enables right-side-up viewing

Uses alkaline or rechargeable batteries (built-in charger)
 

 Powerful
Continually displays/updates average, standard deviation, min/max hardness and number of readings while measuring

Screen Capture – save screen images for record keeping and review

HiLo alarm audibly and visibly alerts when hardness measurements exceed user-specified limits

USB port for fast, simple connection to a PC and to supply continuous power

Software Solutions for viewing, analysing & reporting durometer data:

PosiSoft USB Drive – stored readings and graphs can be accessed using universal PC/ Mac web browsers or file explorers. No software required

PosiSoft Desktop – desktop software (PC/Mac) for downloading, viewing, printing and storing measurement data. Available as a free download.

PosiSoft.net account – a free web-based application offering secure storage of thickness readings

PosiTector App – (Advanced models only) – Mobile app connects PosiTector Advanced instruments to your iOS or Android smart device.

Every stored shore hardness measurement is date and time stamped

Software updates via the internet keep your gauge current
Download Brochure

PosiTectorSHD
PosiSoft Solutions – View, Analyse, Report and Store Measurement Data
To order this product or for more information, please contact us on 08 8267 4744 or through our online contact form.