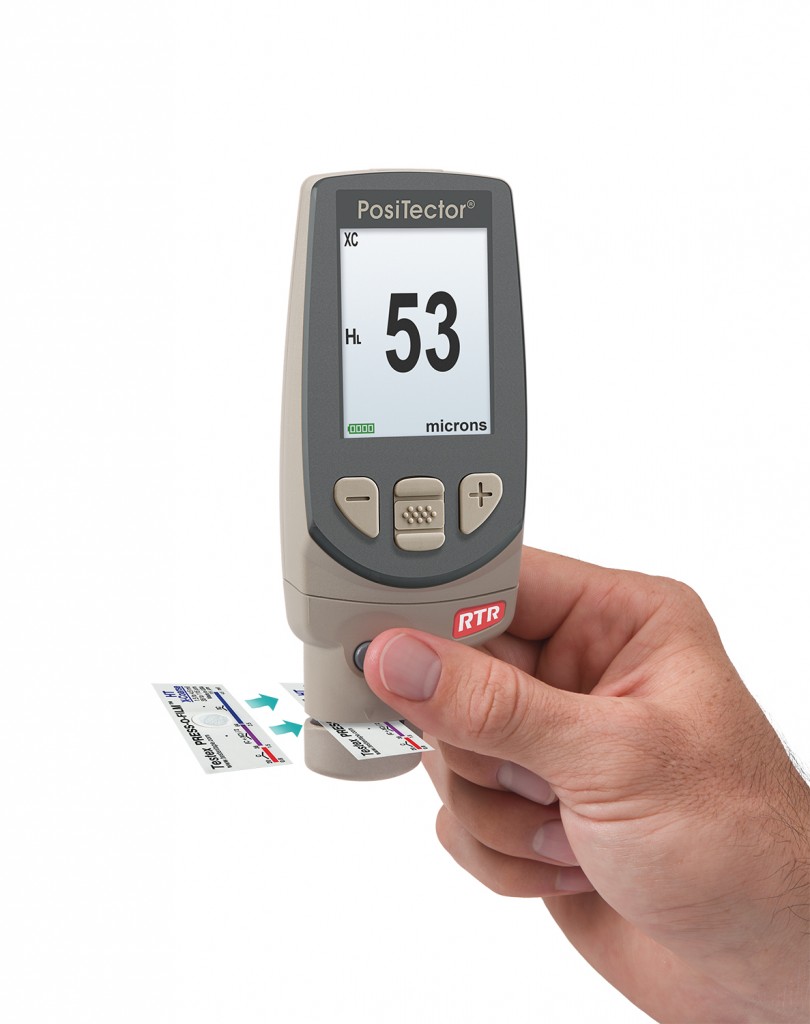 Incospec Coating Inspectors have almost exclusively run DeFelsko Coating Inspection equipment across our Coating Inspection division since 2002. The innovation, accuracy and durability of DeFelsko products provide us with the tools and confidence to deliver reliable results for protective coating projects time after time.
Manufacturer
DeFelsko Corporation

Features & Details
The PosiTector RTR Replica Tape Reader uses digital spring micrometres to measure and record surface profile parameters using Testex Press-O-Film™ replica tape.
Simple
Enhanced one-handed menu navigation
Automatically subtracts the 50.8 μm incompressible film from all readings
Minimises inspector workload by reducing the number of replicas needed to ensure accuracy
RESET feature instantly restores factory settings
Durable
Solvent, acid, oil, water and dust resistant – weatherproof
Rugged indoor/outdoor instrument – ideal for field or shop use
Shock-absorbing, protective rubber holster with belt clip
Two (2) year warranty on body and probe
Accurate
Produces a more accurate peak-to-valley height measurement
Certificate of Calibration (Long Form) showing traceability to PTB included
Conforms to national and international standards including ISO and ASTM
Versatile
PosiTector body accepts all PosiTector RTR, SPG, 6000, 200, DPM, and UTG probes easily converting from a coating thickness gauge to a dew point meter, surface profile gauge or wall thickness gauge Please click here to watch the PosiTector Probe Interchangability video on YouTube.
Mils/Microns switchable
Selectable display languages
Flip display enables right-side-up viewing
Uses alkaline or rechargeable batteries (built-in charger)
Powerful
Continually displays/updates average, standard deviation, min/max height and number of readings
USB port for fast, simple connection to a PC and to supply continuous power. USB cable included
PosiSoft solutions for viewing, analysing & reporting data:

PosiSoft USB Drive – stored readings and graphs can be accessed using universal PC/Mac web browsers or file explorers. No software required
PosiSoft Desktop – free desktop software (PC/Mac) for downloading, viewing, printing and storing measurement data
PosiSoft.net account – a free web-based application offering secure storage of thickness readings
PosiSoft Mobile – (Advanced models only) – access readings, graphs, capture photos and update notations through WiFi enabled devices such as tablets, smart phones and computers

Screen Capture – record and save image into USB flash memory for record keeping and review
Every stored measurement is date and time stamped
Software updates via web keep your gauge current
Download Brochure
PosiTector RTR