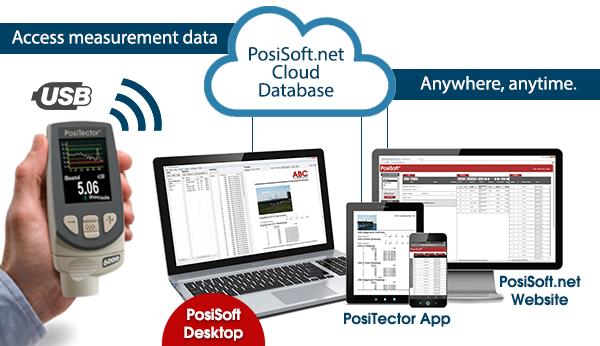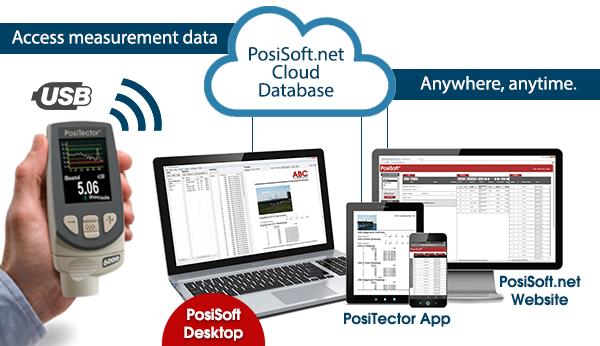 The PosiSoft Desktop used for PosiTector devices has been updated and now seamlessly integrates with the web-based PosiSoft.net, in addition to other useful new features.
This powerful desktop software stores your measurement data on your PC/Mac for viewing, sharing, analysing and reporting. Register your gauge's serial number and key from the new '.net' menu in PosiSoft Desktop, and instantly backup all readings, notes and pictures to the cloud – no need to create an account.
Batches uploaded to PosiSoft.net via WiFi or USB will be downloaded automatically to PosiSoft Desktop. A gauge can be registered to multiple instances of PosiSoft Desktop – a simple way to share measurement data with colleagues and clients. Alternatively, use the PosiSoft.net website to view your measurement data from any web enabled device.
Additional new features:
Import/Export Templates and Jobs to share with other users
PosiTector DPM Monitor Feature

Continuously monitor one or more Dew Point Meters in a centralised location
Convenient graphs allow for spot climatic trends and cycles quickly
Stores min/max readings for all parameters with date and time stamp

Integrated PosiSoft Desktop Manager (PDM) functionality. PC and Mac users can now update their gauge and synchronise with PosiSoft.net when connected via USB while PosiSoft Desktop is running
To find out more about our PosiTector devices and software, please contact us.